Alumni Spotlight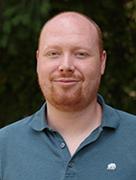 Eric Wright, Ph.D. CSEM 2015
Data Scientist, Microsoft Corp.
I currently work as a data scientist in the Cloud & Artificial Intelligence division of Microsoft. It's a customer-facing position on a team with fellow science, engineering and computing Ph.D.s. Since I began there in 2015, I've worked on a variety of practical business problems like predictive machine maintenance, demand forecasting, and pricing analytics. Along the way, I've learned a great deal about the cutting edge in machine learning and cloud computing–which is like an amusement park for a computational scientist. I've also delved into topics that I never would have predicted five years ago, like economectrics and data warehousing. I really enjoy the variety of projects that I get to work on–and the oportunity to design and build products that have a wide reach in the business world. Read more.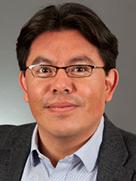 Mauricio Santillana, Ph.D. CSEM 2008
Assistant Professor, Harvard Medical School
Faculty Member, Boston Children's Hospital Computational Health Informatics Program
Associate, Harvard Institute for Applied & Computational Sciences
In my research, I use machine learning and scientific computing to extract patterns and signals from multiple data sources to predict the likelihood of an event given a set of conditions. I do this by analyzing our previous experiences and historical measurements. For example, my team and I calculate the likelihood that an epidemic outbreak is happening now (or will happen a few weeks from now), in a given region of the planet, given that (a) multiple people are searching the Internet for information about a specific disease, (b) doctors are prescribing specific medications, (c) weather patterns seem similar to years when epidemic outbreaks have happened, (d) people from a region with recorded cases of a certain disease are traveling to the location of interest, and (e) the quantity of disease-transmitting vectors (think mosquitos transmitting Malaria or Dengue) is abundant. I also study the likelihood that a patient may experience a desired or undesired outcome in intensive care environments. Read more.
Talea Mayo, Ph.D. CSEM 2014
Assistant Professor
Civil, Environmental, and Construction Engineering
University of Central Florida, Orlando, FL
Talea Mayo experienced a lot of firsts while a graduate student at ICES.
She traveled to Saudi Arabia to conduct research at the King Abdullah University for Science and Technology; she started long-distance running and strength training, finishing multiple marathons ("living in Austin made it easy to train and race," said Mayo); and she overcame mathematical problems that challenged her in ways she had never before experienced.
For the institute, Mayo holds another first. She is the first African-American student to earn a Ph.D. from ICES' Computational Science, Engineering, and Mathematics (CSEM) graduate program. She successfully defended her dissertation in the fall of 2013.
Mayo continued her research as a postdoctoral research associate at Princeton University. Working with civil and environmental engineering professor Ning Lin, Mayo developed probabilistic hurricane storm surge models that may help inform protective hurricane measures for areas including lower Manhattan. In 2015 she accepted the position of assistant professor in the Department of Civil, Environmental, and Construction Engineering at the University of Central Florida in Orlando, Florida. Read more.
Jamie Bramwell, Ph.D. CSEM 2013
Computational Engineer,
Lawrence Livermore National Laboratory, Berkeley, Calif.
It's no secret that Jamie Bramwell was excited to land a job at the prestigious Lawrence Livermore National Laboratory. Almost everything else about her job, however, remains classified.
The historic collection of national labs, famous for their advancements in nuclear weapon technology during the Cold War, is dedicated to national security research. So it's understandable that Bramwell can't reveal exactly what she'll be doing as a computational engineer at the labs. What she can say is skills she learned at ICES are a critical part of the job.
At ICES, Bramwell researched mathematical methods that predict substructures beneath the earth's crust. Using data collected above ground by acoustic waves being bounced back from below, Bramwell applied finite element methods, a mathematically derived computational technique, to solve inverse problems. This problem type works indirectly for the solution, using collections of known readings to make informed predictions about unknown structures or phenomena.
"I am going into the engineering division at Lawrence Livermore National Labs, and the reason [the labs] are wanting to hire me is because most people, especially those who were in industry, when they put in a simulation and it breaks, you don't know why," said Bramwell. "It's only with a deeper mathematical understanding can you at least have some idea how to fix these big commercial sized problems. "Read more.
David Fuentes, Ph.D. CSEM 2008
Instructor, Department of Imaging Physics - Research; Division of Diagnostic Imaging
The University of Texas MD Anderson Cancer Center, Houston, TX
David Fuentes spent his time in the CSEM graduate program modeling image-guided laser-induced thermal therapies.
He now continues to develop algorithms for the sophisticated computer programs that can effectively predict and improve the effectiveness of image-guided cancer therapies.
During his time as a grad student, Fuentes worked on a National Science Foundation project under his supervising professor and ICES director, Dr. Tinsley Oden. The project's large team of UT biomedical engineers, mathematicians, and physicians sought to improve pretreatment planning, real-time monitoring, and real-time feedback control of laser induced thermal therapies of cancer.
Fuentes was a recipient of a four-year fellowship, now known as the CSEM Graduate Fellowship, which covered most of his educational and living costs. His dissertation was titled "Computational Modeling and Real-Time Control of Patient-Specific Laser Treatment of Prostate Cancer."
Since graduation in 2008, Fuentes has continued his work at M.D. Anderson Cancer Center to provide accurate predictions and real-time control of patient-specific bioheat transfer. His work is based on finite element techniques he learned at UT that span the fields of: uncertainty quantification, optimization, control theory, parallel computing, image processing, fluid mechanics, solid mechanics, error estimation, and adaptivity. Read more.