Lisa Gentry works in administrative support at the Oden Institute for Computational Engineering and Sciences. This year she celebrates 25 years working at the University of Texas at Austin. Here Lisa gives her take on life in the time of COVID-19.
I've been working from home since Friday, March 13, 2020. It has been an interesting adjustment, to say the least. We are "slaves" to the machine that is our work routine. So when there is a sudden upheaval of that routine (through no choice of our own) adapting can be very difficult.
Well it's not all bad. For instance, I do not miss the 5AM start and 'two bus' commute to work that used to be part of my morning routine. But I do miss beginning each day by chatting with Dr. Bob Moser, or my other Oden Institute co-workers in the Peter O'Donnell (POB) Building on UT Austin's main campus.
These days I roll out of bed between 6:30 and 6:45AM. My new routine includes a morning walk to "the office" (my kitchen), feeding the cat, then waiting impatiently for hot water to boil so I can make a giant cup of delicious coffee. I start my work day at around 7 or 7:30AM.
In the last 118 days, I have become somewhat accustomed to working from home. My adorable, 16-year-old tuxedo cat, Chili, is loving all the extra attention and cuddles he's been getting since quarantine. I do feel lucky that I don't have human 'kiddos' depending on me 24/7 though.
I can work in my pajamas and no one cares! Of course I change into real clothes for the daily coffee break and other meetings. (For anyone who doesn't bother, trust me it's a good idea.)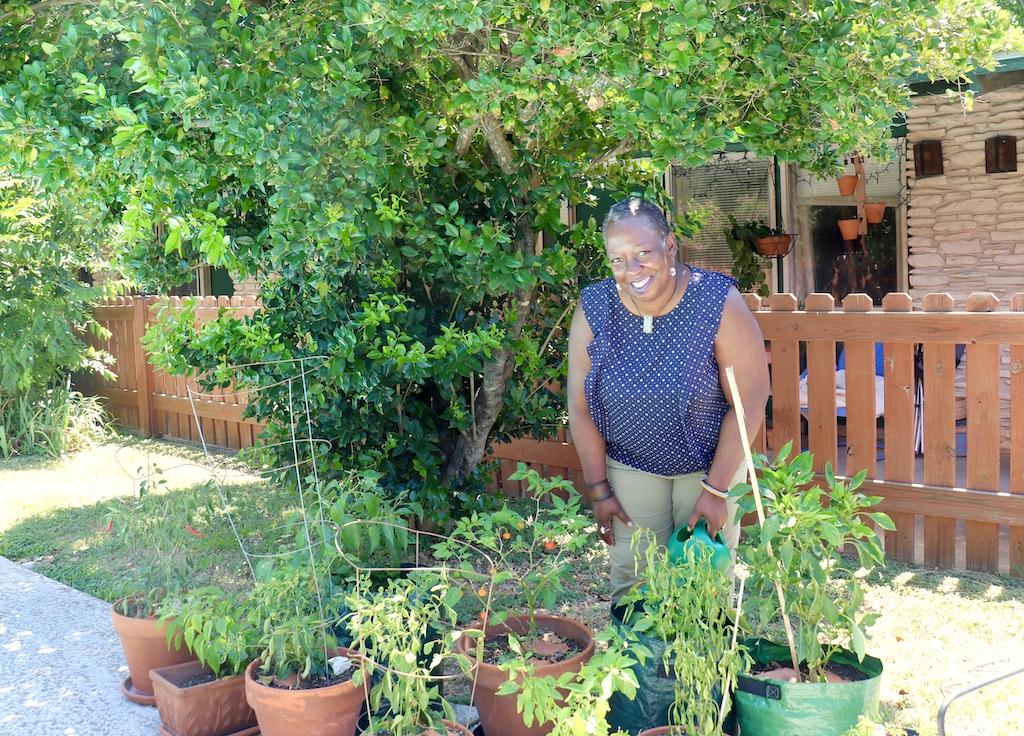 My role in administrative support has not really changed all that much, although I'm busier than ever. I think this extra workload could be due to the increased use of social media and video platforms, like Zoom. In order to keep communication channels open while working remotely, it's important to allocate some of your time to all the additional scheduling required each day.
Zoom is the medium of choice now for almost all meetings, pre-recorded exercise workouts, and for checking in with friends. My role at Oden Institute is principally to provide administrative support to Dr. Moser who is much busier now than before the pandemic, due largely to the plethora of Zoom meetings he must now schedule each day too. So we check in the old-fashioned way - by cell phone.
I have found that I need to limit my social media time because almost everything is so negative. Politics, racial uncertainty in the US, masks, death, and all the crazy people there seems to be online, not to mention the bombardment of COVID "facts" floating around in cyberspace. It's all too much.
While the daily coffee break check-ins hosted by the Oden Institute via Zoom have been a great boost, I limit my screen time outside of work meetings. Otherwise I would burnout. On weekends I attempt to read, but my attention span isn't what it used to be. So I often resort to watching movies, reruns of the Golden Girls, or hours and hours of the Hallmark channel.
I do go out sometimes. Either to sit in the sun by the pool, go swimming or to walk for tacos on Sunday mornings.
I don't consider myself artistic but I have been much more creative with cooking and gardening. Anyone who knows me knows how much I love to cook. I have a multitude of peppers (habañeros, scotch bonnets, shishitos, chocolate and purple bell peppers, cayenne, ghost and a variety of Korean peppers) and basil growing in pots outside my front door. I cook with them, make spicy pickles, compound butters, ground pepper blends. Homemade goodies for everyone!
While I love the quiet work environment at home, I miss the occasional background noise at the office - Dr. Moser's laugh, chatter from students, or the delicate whirring of the water fountain near the freight elevator.
Be safe, stay healthy and, of course, Hook' Em!