The Oden Institute wordmark follows the University branding guidelines and policies to create an identifiable and inclusive visual representation of a University of Texas institution. Launched across The University of Texas at Austin in 2016, the wordmark system incorporates all UT colleges, schools and units and was implemented to visually reflect a more cohesive campus.

The Oden Institute logo was developed in conjunction with the Institute's name change in 2019. The logo comes in three layouts and two colors for use depending on space constraints and background color.
For light backgrounds

For dark backgrounds

Logo Style Guide
The logo style guide provides more detailed instructions on logo placement and presentation.
Logo Colors
The logo uses the UT colors of burnt orange and turquoise. Please use CMYK colors for print and RGB colors for digital applications.
CMYK: 0 / 65 / 100 / 9
Hex: #BF5700
RGB: 191,87,0
CMYK: 100 / 8 / 0 / 28
Hex: #00A9B7
RGB: 0,169,183
The two primary typefaces used are GT Sectra, a serif; and Benton Sans, a sans serif. UT provides guidelines for how to obtain fonts.
The Oden Institute Powerpoint template offers a variety of slide styles with UT colors, as well as options with the Oden Institute logo and with the wordmark.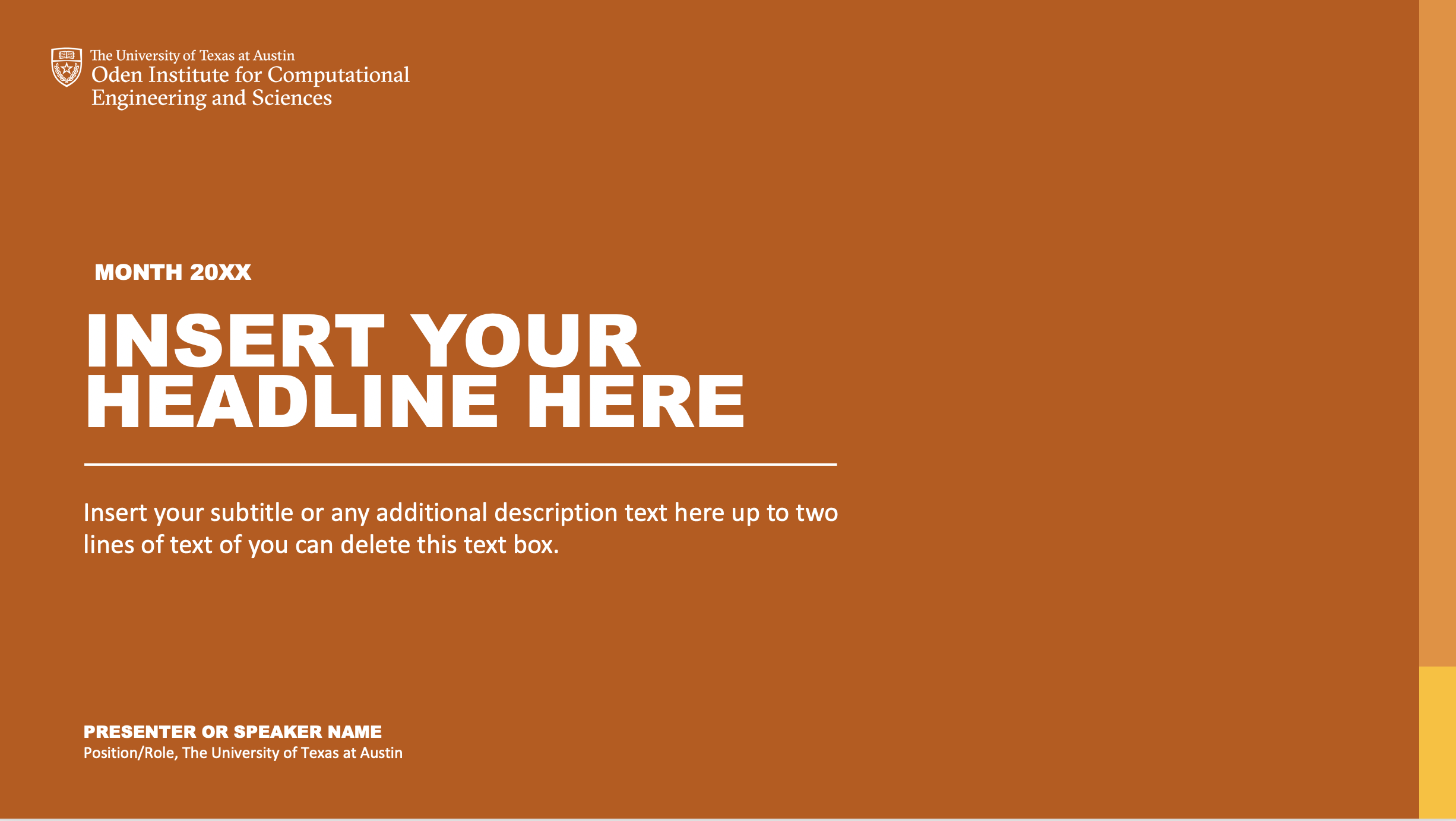 For digital (web, presentations, screens): Download files
Your email signature is a not only a representation of you, but also of your department, school and university. UT's preferred email signature style is outlined below.
FIRSTNAME LASTNAME, Title
The University of Texas at Austin | Oden Institute for Computational Engineering and Sciences
512-XXX-XXXX | email@oden.utexas.edu
Email signature specs:
Type Size: 10pt
Typeface: Arial
Colors: burnt orange (#bf5700) and dark gray (#333F48). See colors above for more information.
The Oden Institute letterhead is on a Microsoft Word template and can be accessed by all Oden Institute members. Please email Maria Stanzione for a copy.
The Oden Institute business card is available upon request for all Oden Institute members. To request business cards, please contact Maria Stanzione.