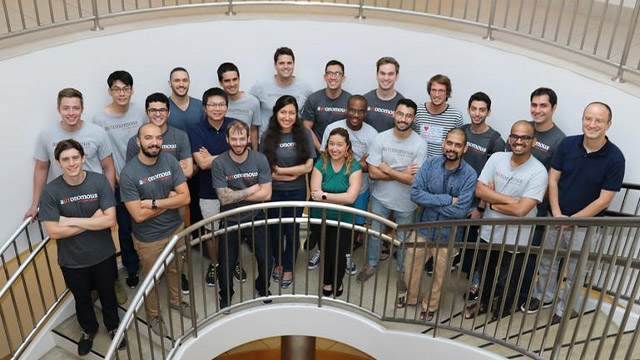 Professor Ufuk Topcu, far right, with his Autonomous Systems Group that he directs for the Oden Institute.
$5.5 million NSF Project with Topcu's Group to Improve Human and Autonomous Technology Interaction
Oden Institute Professor Ufuk Topcu will participate in a $5.5 million National Science Foundation project to develop better ways for autonomous technology to interact with humans.
The multi-institutional 5-year project funded through NSF's Cyber-Physical Systems (CPS) program will seek to develop a framework for improving these systems and making them more adaptable to real-life human behavior.
The project is called "Cognitive Autonomy for Human CPS: Turning Novices into Experts."
"The expected outcomes of the project will help significantly reduce the training time for novices to acquire the skills necessary to perform complex tasks in collaboration with autonomous systems," said Topcu, an assistant professor of aerospace engineering, and director of the Oden Institute Autonomous Systems Group. "Following a disaster at a remote location, for example, locals may become capable of effectively contributing toward the search-and-rescue efforts by operating a collection of drones after a brief training period."
Topcu's group will develop novel algorithms for predictive monitoring and control of human-in-the-loop systems and for generating diagnostic information transparent to human users.
The University of New Mexico's Meeko Oishi will lead the full project which has four main goals:
• Create cognitive models that are personalizable and computable and take into account a human's intent, skill level, trust level, attention and other factors. Existing approaches typically either provide excessive detail, for example, describing low-level neurological phenomena that make models so large they confound computation, or are so simplistic that they are not useful in practice.
• Create algorithms for predictive modeling and verification that can anticipate potential problems and work to mitigate such problems in run-time. While historically, verification techniques provide mathematically elegant solutions, they require pre-specifying errors ahead of time, which is practically impossible when highly unpredictable humans are involved. The team proposes a combination of off-line probabilistic verification with on-line predictive monitoring and shielding.
• Create cognitive control that responds to both the human cognitive state and the physical state of the system so that the system can adjust to objective system performance, as well as to human attention, workload, and trust, in a dynamic fashion.
• Develop algorithms for transparent communication so that the intent of the autonomous system is clearly conveyed to the human in a manner compatible with the task and circumstance. Oishi said this will involve integration of principles from human factors and from formal methods to provide dynamics-driven insights in a concise yet intuitive manner.
Topcu serves as a co-principal investigator with Sriram Sankaranarayanan from the University of Colorado at Boulder; and Inseok Hwang, Neera Jain, Tahira Reid, and Brandon Pitts from Purdue University. Industry partners are United Technologies Research Center; Sandia National Laboratories; and the Air Force Research Laboratory (AFRL) at Kirtland Air Force Base.
Outreach and broadening participation in computing is also a significant part of this project. The team is creating an undergraduate summer research program focused on providing underrepresented students with experience in cyber-physical systems.
--
In July 2019, Topcu became the inaugural Fellow of the W. A. "Tex" Moncrief Professorship in Computational Engineering and Sciences. "We are very proud to have Dr. Topcu as a Fellow of our newest Oden Institute Professorship," says Oden Institute Director Karen Willcox. "Dr. Topcu is one of the nation's leading young researchers in controls and autonomy. His research is pioneering new methods that break open the challenges of creating safe, verified autonomous systems at scale."
Related Stories
Robot Control: Ufuk Topcu's mathematics to improve autonomous system design
Truly Autonomous Systems is Goal of $7.5 Million Project
Topcu to work with consortium selected to pioneer new autonomy capabilities
Posted: Oct. 25, 2019