CSEM Student Is Olympic Hopeful: Andrew Wilson Has Sights on 2020 Olympics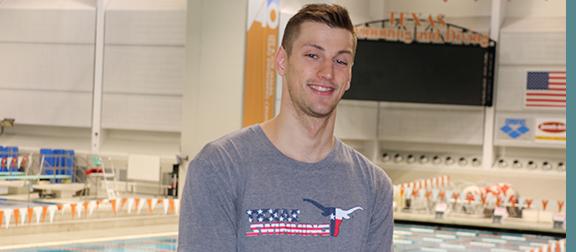 Andrew Wilson, CSEM student
Andrew Wilson's Ph.D. program races alongside his Olympic swimming dreams. He earned two undergraduate degrees in physics and applied math while swimming into the 2016 Olympic qualifying rounds. He hopes to do the same while pursuing his Ph.D.
For nearly 30 hours a week, CSEM Student Wilson trains for his place on the U.S. National Swim Team. And every day when he steps out of UT's Jamail Swim Center, he swiftly returns to his role as a CSEM first-year Ph.D. student.
That student athlete balance is comfortable for him. "The structure is helpful; it forces me to be productive," he says. "I don't think about it. I've been doing it for six years now, since I began swimming in high school."
Wilson earned two bachelor's degrees from Emory University--one in physics and one in applied math--while competing on their NCAA Division III swim team. He was twice named the University Athletic Association's Swimmer of the Year award after he set records in the 200 Individual Medley and 100- and 200-meter Breaststroke. His speed won him a place on the U.S. National Swim Team in 2016 where he competed for a spot on the Summer Olympics team...but missed by tenths of a second.
Meanwhile he graduated summa cum laude from Emory, and began searching for a computational Ph.D. program. At UT he found a number one ranked program at ICES, and an Olympic swim coach in Eddie Reese with the Texas Aquatics swim club. Both accepted him into their programs.
While most Olympic hopefuls become full-time athletes, Wilson didn't want to start his Ph.D. program at age 27. He also reasoned that postponing his swimming opportunities until after earning a Ph.D. at age 27 was not viable either. So he was grateful to find top programs for both of his passions.
"It was really luck both programs were here."
This summer he'll compete with the U.S. National Team in the Pan Pacific Swimming Championship in Tokyo. Next summer he hopes to compete in the World Aquatics Championships in Gwangju, South Korea. Both lead up to the Olympic trials in July, 2020.
"It's not a good idea to think about one meet for four years," Wilson says in his matter of fact style.
That two-year interim will also include taking the preliminary qualifying examinations for the CSEM Ph.D. program, selecting a supervising professor, and completing the required Ph.D. coursework. His career goal is eventually to work in industry.
"My dream job would be to do aerodynamic modeling for a Formula 1 team," he said. A third strong reason to be in Austin.
--By Becky Rische
Posted: May 17, 2018